Skyline crossover J50 NJ50 rear brake pads SN
Auction ends
over
Bids
no
Current price

¥3,260

$33

Start price

¥3,260

$33

Buy-now

¥3,260

$33

Consumption tax
8%

not included

Seller
ybshop1

+7946

Condition
New
Start time
2019-06-23T14:41:07+09:00
End time
2019-06-25T14:41:07+09:00
Auto-prolongation
Turned off
Lot number
u283446843
Seller position
Hiroshima ken Fukuyama city
※ The winning bid does not include consumption tax ※
Bid price + consumption tax + shipping fee payment amountIt will be.(In cash on delivery ※, cash on delivery commission is required separately)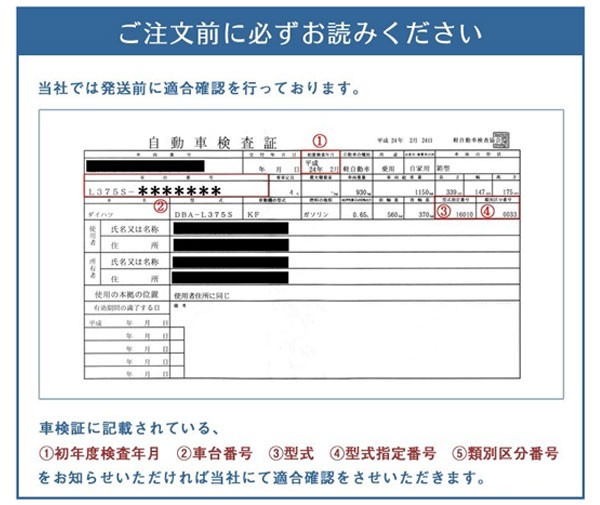 ※ The winning bid does not include consumption tax ※The winning bid + consumption tax + shipping will be the payment amount (In cash on delivery ※, cash on delivery commission is required separately)
◆ ◆ ◆ About the product ◆ ◆ ◆
ADVICS for Japanese car disc brake pad 4 Piece Set for rear
If it is the following model, year model, grade, it conforms
There are also two cases with the same age model. ※ With regard to compliance information, please be aware that compliance may be changed due to model changes etc.
| | |
| --- | --- |
| Maker | Nissan |
| type | Skyline crossover |
| Model | J50/NJ50 |
| Remarks | VQ37VH |
| Model year | H21/07~ |
set content
Genuine product number
Rear Advics
AY060-NS048
【please note】
※ In the case of conformity check, there is a statement in car verification,・First year registration June AY060-NS035
・The chassis number
・Model designation number (Numbers 5-digit only)
・Assortment 区分番号(numbers and 4 only)Please let me know. It becomes shipping after conformity check. As we can not accept returned goods / exchange at the time of having you purchase without confirmation of conformity in our store
Please acknowledge. This item is,Scheduled to ship approximately 1-2 business days after your order dateWill be. (Please understand that Saturdays-and-Sundays public holiday is not included in the shipping business day for regular holiday. )
In the case of manufacturer shortage (2 to 3 weeks), we will contact that effect. Those in a hurry, please be sure to check stock before ordering.
◆Our designated shipping company 800 yen (excluding Hokkaido · Okinawa · isolated island)We will ship. ※ Hokkaido will be 1,000 yen. Okinawa · remote island separately estimates.◆ If you wish to cash on items, cash on delivery commission is required separately.
Administrative Code: YB-26780
No questions.